Officer St. Peter received National recognition from the U.S. Attorney General for her distinguished work in community policing.
Seasonal Community Service Officers, Police: **TO BE CONSIDERED, COMPLETION AND SUBMISSION OF THE POLICE APPLICATION, COVER LETTER, AND RESUME ARE REQUIRED***The Barnstable Police Department has openings for ten (10) civilian Seasonal Community Service Officers...
2022 Municipal Police Officer and MBTA Transit Police Officer Examination If you are interested in becoming a Barnstable Police Officer please see the announcement below from the Massachusetts Civil Service Commission regarding the next exam. This examination is being...
Welcome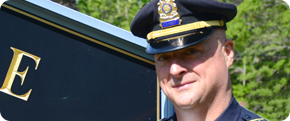 Chief Matthew K. Sonnabend
Thank you for taking the time to view the Barnstable Police Department's website. We hope this website will provide you with information on how the Department works, its outstanding personnel and a number of the community-based programs we are involved in.
If you have any questions please feel free to contact the Barnstable Police Department
chief@barnstablepolice.com
For tips or questions you can contact the Investigative Services Division by emailing Detectives Information and Tips (click on the email link in red)