October 23, 2021 is National Prescription Take Back Day. The Barnstable Police Department, in partnership with the USDOJ-Drug Enforcement Administration (DEA) and the Massachusetts Department of Environmental Protection (DEP), is participating in the 21st nationwide...
Winter Community Service Officer job posting Deadline 10/22/2021 at 4:30 pm
On Wednesday August 11, 2021 the Barnstable Police Department along with the five Town of Barnstable Fire Departments hosted the Annual "Kids Day" Event at the Barnstable High School. This event allows children of all ages to see demonstrations, equipment, and...
Welcome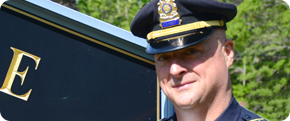 Chief Matthew K. Sonnabend
Thank you for taking the time to view the Barnstable Police Department's website. We hope this website will provide you with information on how the Department works, its outstanding personnel and a number of the community-based programs we are involved in.
If you have any questions please feel free to contact the Barnstable Police Department
chief@barnstablepolice.com
For tips or questions you can contact the Investigative Services Division by emailing Detectives Information and Tips (click on the email link in red)